We make children's dreams come true.
We make children's dreams come true.
kids buggy
kids buggy
Challenge Yourself and Push the Limits
Since many in our company have children themselves, we wanted to create something child-friendly, which is a real highlight for children. That's why we have created an OFF Road Parkour especially for this purpose and expanded our fleet by 6 Polaris RZR children's buggies.
Our buggies are all automatic vehicles, which makes them super easy to drive, so that after a short briefing, even children with no previous experience can get started right away. Nevertheless, a supervisor must always drive the first laps so that the child can familiarize himself with the vehicle and the steering. As soon as the children have mastered the vehicle safely, they can do their rounds on their own. In addition to the fact that the children all have a lot of fun, it is also absolutely educationally valuable because they themselves have control of a vehicle with a real engine. In this way, they playfully learn to take responsibility themselves, thereby growing in their personality and gaining even more self-confidence.
.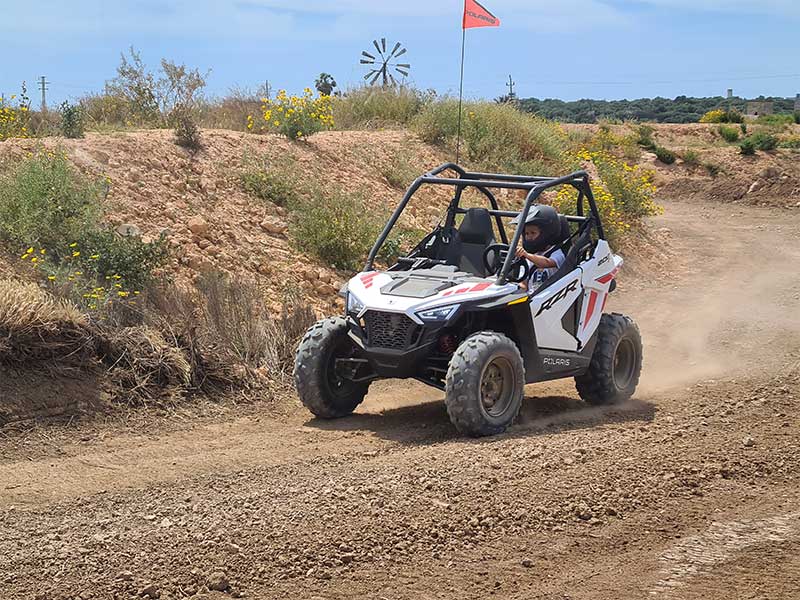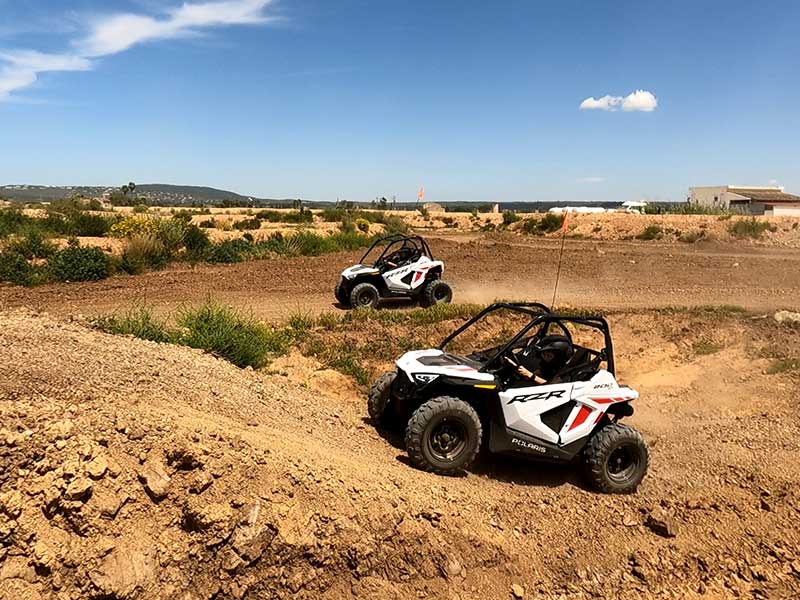 A Never Ending "Adventurous Journey"
So that we can respond individually to the different age groups and levels of experience, the speeds of all our buggies can be optimally adjusted between 10 km/h and 50 km/h.
Safety is our top priority, we have an electronic control system which, in the event that a child removes the seat belt or helmet, automatically throttles the stroller to 5 KM/H. Furthermore, the route on which the vehicles can move is limited by GPS and is automatically limited if a child leaves the parkour, so that there is a maximum of control.
The big children's eyes and the enthusiasm that we see on their faces after every ride shows us that we have done everything right and we hope to welcome your children as guests soon.
Kids Buggy Event
Kids Buggy Mallorca is the perfect event for children's birthday parties and other events.
For safety reasons, the first rounds are always accompanied by a supervisor

No physical or mental limitations that might prohibit driving.
All our buggies are two-seaters. Thus, in addition to the driver can always ride a second child, this is included free of charge in the price. The minimum age for the co-driver is 5 years.
Exclusive Kids Parkour for your own event

Unlimited use of 5 children's buggies with no lap limit

Buggy`s for 2 persons (driver and passenger)

Professional supervision and care
Time: 1 h
Price: 450 Euro
For longer events, additional services such as bouncy castle, catering or similar can be arranged upon request.
Events on their private finca can also be easily organized.
Other events for children:
Children can also participate in the normal On/Offroad tours for adults. Our fleet consists of 2-seater and 4-seater buggies that we can equip with child seats. Riding along is therefore possible from the age of 5. So these also become the perfect family event.