Experience an off-road adventure in Mallorca
According to the motto "La vida es mejor con Aventuras" we have made it our task to offer you unforgettable hours with our Polaris buggies
to show the island from its highly underestimated side. The center of the island scores with its diverse landscapes. The glittering salt marshes, fertile stretches of land and rocky mountains offer all sorts of variety during the journey. We show you beautiful hidden corners, but also Mallorca in a 360 degree view. For more detailed information about the route and the places and landscapes we cross, please see our "Route" tab.
With our Polaris buggies we are well equipped for this environment, because Polaris is the leading manufacturer of buggies, quads and other all-terrain vehicles and has once again set new standards with the latest 2022 model. Our RZR 1000 and RZR 200 buggies (for kids) are state-of-the-art vehicles with the latest safety standards and are great fun for young and old. We show the buggies in detail again under the tab "Buggys" and "Child buggies".
Engine type 4-stroke DOHC 2-cylinder Displacement 999 CC

transmission automatic PVT; P / R / N / L / H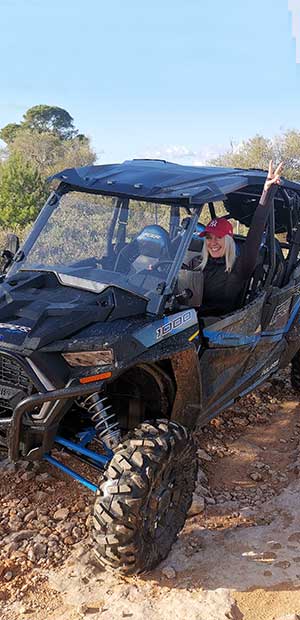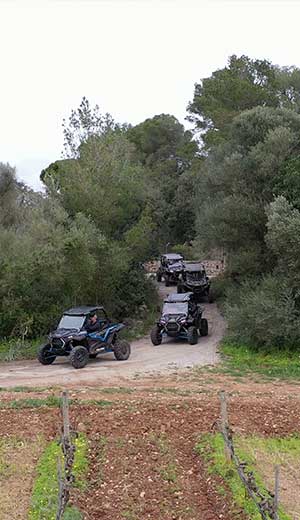 Because buggies are our business
Whether it's a company incentive, a children's birthday party or just the perfect holiday experience, we are your competent contact on Mallorca. We look forward to becoming an unforgettable part of your dream vacation in Mallorca. Have you ever done a buggy/quad tour through Mallorca? Mallorca's beauty invites you to enjoy it several times, so a repeat tour is nothing unusual, we look forward to everyone who can show us their very own impressions and mysterious places.
Our fleet consists of 2 seaters and 4 seaters which are perfect for smaller groups or families with children. The special highlight for the little ones is our children's cross parkour where they can really step on the gas. Because the maximum speed of our buggies is electronically adjusted according to age, children from the age of 8 and young people can let off steam there.