Experience Mallorca up close
On our Adventures Buggy route
Buggy Offroad Tour Mallorca
Buggy Offroad Tour Mallorca
Experience the real Mallorca
Experience the island from its most beautiful side with us and explore the interior of the country in a breathtaking way with our Polaris buggies. Because our buggies are all equipped with automatic transmission and power steering, driving is very easy and lots of fun is guaranteed. Our vehicles are all equipped with seat belts so that no helmets have to be worn and you can enjoy the ride without restrictions.
After a briefing from one of our experienced guides, we can start. Only a few minutes later we reach the first fields, small fincas and traditional windmills and get a foretaste of Mallorcan flair. Immediately after the small town of Sant Jordi we come to our off-road route. From there we drive about 30 minutes over an unpaved route, where our buggies show what they can do. Driving over hill and dale and noticing how the buggy effortlessly copes with every bump is great fun for young and old. The beautiful landscape away from mass tourism shows Mallorca from one of its most beautiful sides. At the end of the off-road route we make a short stop and are then already on the outskirts of the traditional town of Llucmajor.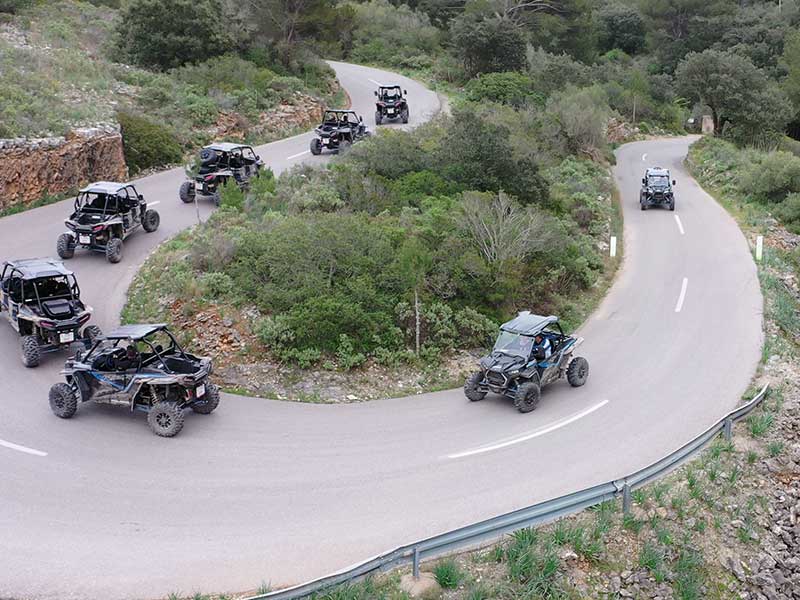 Off-road buggy track

Then we continue to the nearby mountain Randa, which is easy to reach after a short stretch of road over great switchbacks. One of the most spectacular panoramas that Mallorca has to offer awaits us here. During a 30-minute break at an altitude of 542 meters, we enjoy a 360-degree view of the entire island with all its enchanting landscapes and picturesque bays. In the restaurant, which is located in the beautiful monastery of Randa, there are toilets and the possibility to have a coffee, an ice cream or a cold drink. This is also the perfect opportunity for anyone who would like to change drivers before we head back.
Our buggy tour is the perfect change for everyone who wants to experience something very special on their vacation.
Tour duration : 3h
Prerequisite : – Original driver's license – at least 21 years old
Included : – guide – petrol – civil liability insurance – radio
Not suitable for : – Pregnant women – Children under 5 years